News
2020 Award for greatest improvement

1st March 2021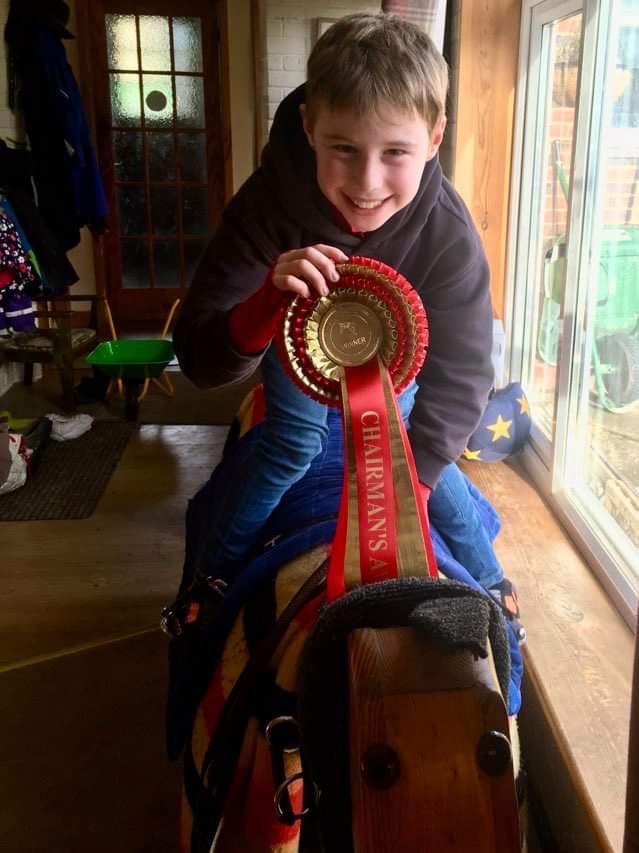 In recent years the BSPS area 14 chairman, Anne Lucas, has presented a prize for the young rider that has shown most improvement in they year. For 2020 it went to James Burchell. "He came on so much. From being very wobbly off the lead to jumping in a working hunter pony at the end of the season in a very balanced performance was just amazing to see," said Anne.
Jo Burchell, James' mother said: "A huge thanks to Bsps area 14 for giving James the great honour of the 'young achievement award' for 2020. Despite the lack of shows last year it has meant that we could put more time in to James and his riding and it's been amazing to watch him grow in confidence.
"Having only competed in one first ridden class before this year, we tentatively put him on to a 4yr old, Rowfantina Orlando Bloom, who has a temperament to die for, but lacks any mileage. We took it slowly and he did the area 14 clinic in July. With a couple of Bsps area shows under his belt we decided to enter the pair for the heritage champs in October and were delighted with a fourth on the first day and then a win and reserve champ on the second day. Safe to say James has definitely got the bug now and constantly asks if there is a supreme at each show we go to! He even practices 'supreme shows' at home!
"Most of James' confidence however is down to the 20 yr old legend pony that is Red, 'Rowfantina Spotlight'! James regularly dresses up like a jockey and takes her around the neighbour's gallops. The pair have also taught each other to jump, competing at their first whp show in October where they won and went champion, gaining some of the most fantastic rosettes and sashes! James' ambition is to be a jump jockey and has set his sights on pony racing when he turns 9!"